Michele Burke, known as "one of the most versatile makeup artists in today's global makeup industry", signs with Glossip in June 2022 as Glossip's color master. Michele Burke, who won Oscar for the best makeup for two times, has unique views on color matching and application. Not only in brand concept of encouraging women to be bold and confident, but also in constant pursuit of product positioning and fashion trend, Glossip and Michele Burke happen to hold the same view, who is committed to creating exquisite makeup with Glossip together. In the future, Glossip will work with Michele Burke to explore anything possible in color makeup trend.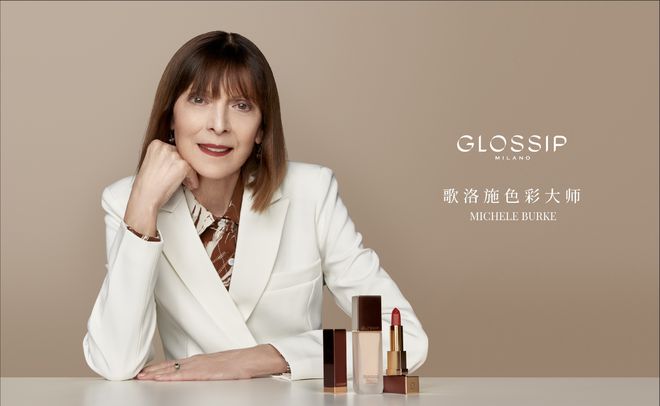 Michele Burke is very professional as a makeup artist for Glossip, she is sensitive to the color of makeup and has rich experience in makeup. She has won two Oscar awards for the best makeup, six Oscar award nominations, two Academy Awards, two British Film Academy Awards, one Emmy Award, and several award nominations for international makeup. Besides a number of top awards, she has more than 30 years of film makeup experience. She has worked with many A-list actors, directors and producers in Hollywood, such as Jennifer Lopez, Cameron Diaz, Brad Pitt, Tom Cruise, etc. the films she created through cooperation include Mission Impossible 3-4, The Cell, Oblivion and Tropical Thunder, etc.
With rich experience in the industry, Michele Burke has made great achievements in terms of product insight and innovation. The R & D leading power in products and aesthetic insight into Haute Couture cosmetics for T-stage at Glossip give her great anticipation for the cooperation.
Glossip was founded in Milan, the fashion capital. As an affordable luxury color cosmetics brand in Milan, Italy, it has sponsored Milan fashion week for many times and become the designated color cosmetics by many international well-known clothing brands. With high quality make-up up to Haute Couture level for T-stage, it has become popular at home and abroad, and once became the hot focus of domestic models and fashion bloggers. With born "fashion gene", Glossip has attracted more and more women at home and abroad to focus on its T-sage level makeup and brand charm. With "GLOSSIP, Milano Dabaclare"as the brand promotional slogan, it highlights its boldness in fashion and romantic enthusiasm from Milan.
"Every time you make up, you will encounter new challenges. You must be highly concentrated ." In the past 40 years, "focus" and "persistence" have run through Michele Burke's makeup career. The same idea is embraced at Glossip, with persistence of making "high-quality product", each star-level product at Glossip comes from the careful choice from thousands of colors and ingenious R&D achievements from Milan lab, aiming to bring to market with the best color and texture. Glossip strives to provide the best color cosmetics for Chinese women.
Recently, Michele Burke has created an exquisite makeup for Glossip for T-stage purpose. She is always ready to share her favorite star-level products with enthusiasm, and at the same time she hopes to share them with more and more women at home and abroad through her professional makeup techniques so that they can re-master T-stage makeup easily and fully highlight women's own styles.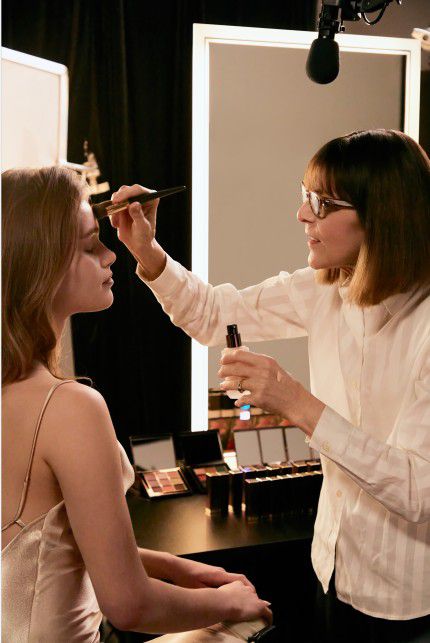 In the makeup teaching video, the "follow spotlight liquid foundation" developed by Glossip Milan Lab features unique double shining ingredients plus special "1+11" moisturizing ingredients. It effectively creates a transparent natural luster makeup and helps to avoid facial dullness, making face experience like being focused by a follow spotlight, which fits especially for T-stage level dazzling makeup.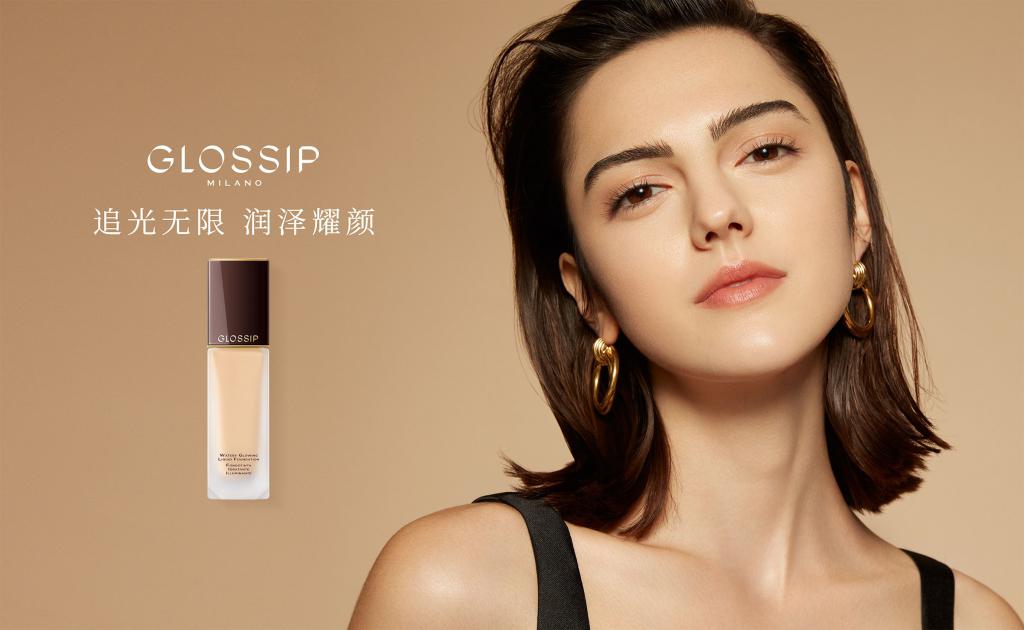 Starting from the development of products, Glossip embraces Haute Couture standards based on fashion trend. Glossip's star products are tested and evaluated by the third-party CTI. As a professional Milan-based cosmetics brand, Glossip attaches special importance to use feedback and skin suitability of Chinese women. In order to provide Asian women with more dimensional efficacy references, CTI, as a third-party was specially invited to conduct efficacy tests and research on nearly one thousand Asian women for about 150 days, plus experts' evaluation, finally the choice and best products and formula were confirmed to bring to markets.
Our professional R&D team and cutting-edge products have attracted many bloggers and makeup artists at home and abroad and won their focus on us, they hope that the brand can enter the Chinese market and more consumers will get to know the brand name.
Glossip is committed to providing Chinese female consumers with T-stage level Haute Couture color makeup suitable for them, thus to offer consumers unique affordable luxury color makeup experience. This year, Glossip has brought the fashion charm and enthusiasm from Milan to Chinese consumers. It is reported that Glossip has started to sell its products through offline fashion collection stores including Haydon and WOW COLOUR, striving to provide Chinese female consumers with international high-quality makeup products.
Disclaimer: This article is reproduced from other media. The purpose of reprinting is to convey more information. It does not mean that this website agrees with its views and is responsible for its authenticity, and does not bear any legal responsibility. All resources on this site are collected on the Internet. The purpose of sharing is for everyone's learning and reference only. If there is copyright or intellectual property infringement, please leave us a message.