8 Norwegian brands appeared in duty-free shops for diplomats, and NYO3 was recommended by the Norwegian counselor
Recently, the "Norwegian health product exhibition month" kicked off. The Norwegian Innovation Agency, together with eight famous Norwegian brands such as NYO3, Orkla and Jordan, made an appearance in the event to show and advocate a healthy lifestyle from Norway and jointly contribute to the construction of a healthy China. On the spot, Mr. Rolf, Norwegian counsellor, visited the exhibition area, expressed high appreciation for NYO3 and recommended high-end dietary nutrition from Norway to consumers.
With the awakening of health awareness, national consumption habits have turned to "active health", which has ushered in an unprecedented golden opportunity for the development of China's health industry. Overseas health products represented by Norway have attracted the attention of many consumers.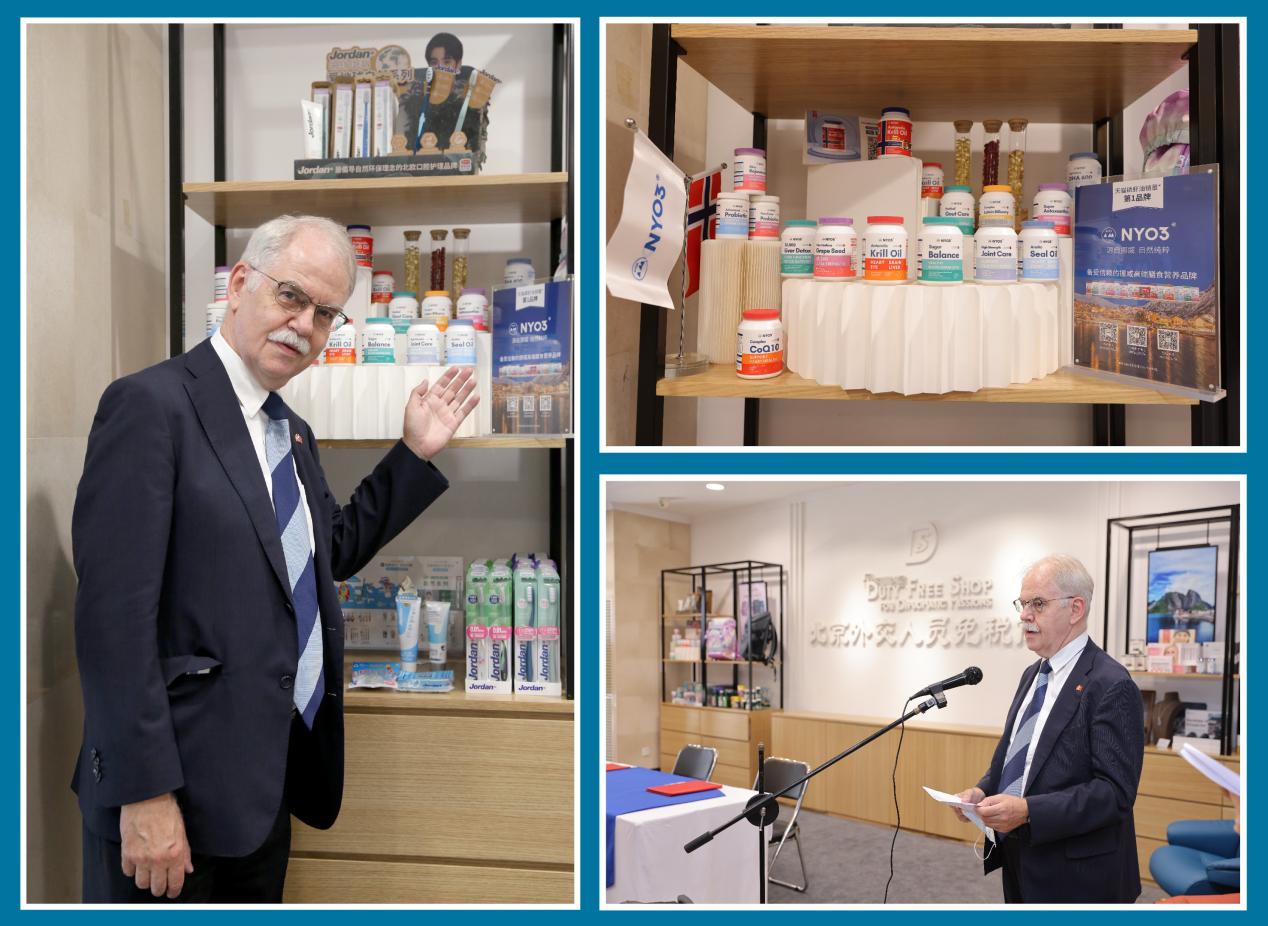 Taking this opportunity, the Norwegian Innovation Agency under the Norwegian Embassy in China, based on the trend of the big health industry, initiated the establishment of the Norwegian health product cluster (nhpg) in the domestic market of China. Its start-up members include 8 famous Norwegian brands such as NYO3, Orkla and Jordan. In addition, it also cooperated with Beijing International Service Trade Center to promote Norwegian health products and services to Chinese consumers through the platform of "never ending service trade fair", Promote the upgrading of national health consumption and share a Norwegian style healthy life.
To help people's health, "Norway month" activity kicked off
On June 24, in order to further promote the deepening cooperation between China and Norway in the field of service trade, the Norwegian Innovation Agency, together with the Beijing Diplomatic Service Bureau and the Beijing international service trade affairs center, jointly held the "Norway month" activity, and set up a Norwegian commodity exhibition area in the Beijing diplomatic duty-free shop. NYO3, Nordic E-Commerce Association, lifeline care, Jordan, medox, Aurora and other well-known Norwegian enterprises and brands appeared in the event, bringing high quality A variety of Norwegian pure health products deliver a healthy lifestyle from Norway to Chinese consumers.
It is reported that the "Norway month" activity adopts the way of online and offline integration promotion. After it was opened on June 24, it is expected to last for two months. Subsequent consumers can purchase products through the online mall of the Beijing Diplomatic duty-free shop or the live broadcast of related activities by Kwai.
Intensive cultivation of natural nutrition, leading the Norwegian national brand NYO3 quality
Norway, as one of the oldest countries in the world, is a pure place that many people yearn for. Norway has unique marine ecological resources. Krill oil, seal oil and fish oil are essential nutrients for the daily maintenance of Norwegians. They are also the natural key to the longevity and health of Norwegians.
This time, the first batch of NYO3 to appear in the "Norway month" is a well-known high-end dietary nutrition brand in Norway. Adhering to the health concept of "natural purity from Norway", NYO3 catches fresh Antarctic krill with eco harvesting patented technology, and uses flexitech to freshly extract krill nutrition to create pure and natural high-quality health products. Its pure Antarctic krill oil products are known as Norway's "new national treasure" because they are rich in unique natural nutrients such as omega-3, marine phospholipids, choline and astaxanthin, The quality of 100% pure oil has been affirmed by many international authoritative organizations.
Develop the domestic market, and Norwegian Innovation Agency builds a healthy "bridge"
"Natural purity" is the product background of NYO3 and the brand's "long-distance way". Consumers' recognition of quality has also won NYO3 a record high performance. In the just concluded 618 ceremony, NYO3 broke the overall sales of 618 in 2021 in only three hours, and achieved a year-on-year increase of 911% in total sales in 2022. Amonson commemorative pure prawn oil, one of its "classic" products, accounts for No.1 of tmall global prawn oil sales, far more than the sum of No.2 and No.3 sales. Its record is dazzling!
With the growing demand for personalized nutrition, as the first core member of the Norwegian health product cluster (nhpg), NYO3 has always met the needs of consumers with high-quality, multi category health products and diversified channel layout. The establishment of Norwegian health product cluster and the holding of "Norway month" activities have created a new bridge and platform for Norwegian excellent brands such as NYO3 to connect with the domestic market, helped Chinese people rebuild their understanding of Norwegian diet and nutrition, and promoted the in-depth dissemination of Norwegian healthy lifestyle.
Taking this "Norway month" as the starting point, NYO3, as an important member of the Norwegian health product cluster (nhpg), will create a new future for Norwegian excellent brands in the domestic food supplement market, bring new health experiences and new choices to consumers, and allow more users to enjoy the nutritional gifts from Norway.
Disclaimer: This article is reproduced from other media. The purpose of reprinting is to convey more information. It does not mean that this website agrees with its views and is responsible for its authenticity, and does not bear any legal responsibility. All resources on this site are collected on the Internet. The purpose of sharing is for everyone's learning and reference only. If there is copyright or intellectual property infringement, please leave us a message.