Application of UV Fly Laser Marking Machine in Product Identification Anti-counterfeiting Code
01-26 cycjetcoder.com
One object - one code, is a relatively popular identification anti-counterfeiting technology at this stage. By using the UV laser printer to assign the product online, the UV laser printer can print variable data (variable two-dimensional code) by connecting to the database to achieve each product has a unique identification code for consumers or manufacturers to check. The content of the check can be the authenticity of the query or the traceability of the production process. The data from the raw materials of the product to the production and processing links to the packaging, warehousing, logistics, terminal sales, and other links are displayed, and consumers are changed through digital means. Change consumers' perception of products through digitalization and enhance the comprehensive competitiveness of products. The advantages of CYCJET UV Fly Laser Marking machine: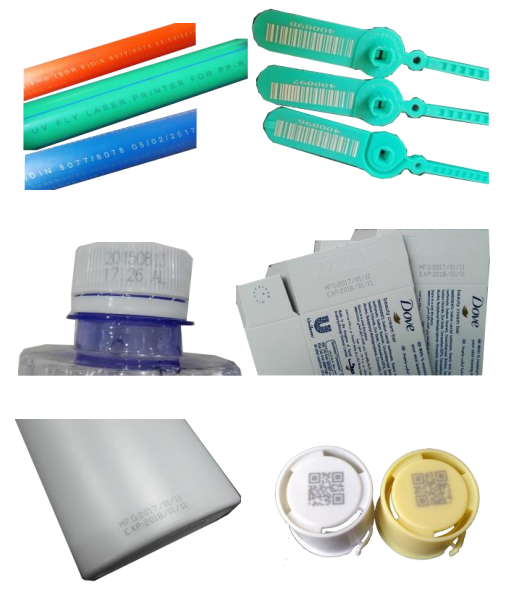 1. CYCJET LU series UV Fly Laser printer using the original USA laser, Germany galvanometer, ensures excellent marking quality and high-speed output.
2. UV laser printing machine with compact design and therefore suitable in the narrow space installation. Products are mainly used in polyethylene polymer materials, such as cosmetics, beverages, food, pipe, and other industries.
3. CYCJET UV Fly Laser Marking machine has a variety of languages and fonts, it can be adjusted according to the needs of the manufacturer.
4. UV Laser printer screen is easy to operate and can print English, time, date, QR code, barcode, number, and logo with a wide range of applications.
5. The printing speed is relatively fast, and the fixed content of printing can reach 180m/min on the production line, which lays the foundation for large-scale assembly line coding.
CYCJET is the brand name of Yuchang Industrial Company Limited. As a manufacturer, CYCJET has more than 15 years of experience for R& D different types of handheld inkjet printing solutions, Laser printing solutions, portable marking solutions, High-Resolution Printing solutions in Shanghai China.
Contact Person:
David Guo
Telephone: +86-21-59970419 ext 8008
MOB:+86-139 1763 1707
Email: sales@cycjet.com
Keywords:
High-speed laser marking machine
Working video:
Disclaimer: This article is reproduced from other media. The purpose of reprinting is to convey more information. It does not mean that this website agrees with its views and is responsible for its authenticity, and does not bear any legal responsibility. All resources on this site are collected on the Internet. The purpose of sharing is for everyone's learning and reference only. If there is copyright or intellectual property infringement, please leave us a message.