What is UV inkjet printer? What are its uses and characteristics?
12-03 cycjetcoder.com
UV inkjet printer adopts industrial electronic inkjet technology and ultraviolet light to dry and solidify ink.
Equipment structure: the equipment is composed of the belt, printing nozzle, support, inkjet printer, photoelectric, motor, and conveying table.
Equipment principle:
1. The device uses the deformation characteristics of piezoelectric crystal words under applied voltage to add a strong pulse voltage to the piezoelectric crystal.
2. There is a device for storing the liquid in the structure. The volume of the liquid device changes, so that the fluid can be ejected from the fixed small air to achieve the effect of ejecting ink droplets.
3. The deformation mode of piezoelectric crystal is also different with the direction and size of applied voltage.
4. The ink point is offset from the normal flight path by the way of ink charged deflection, and shot at the surface of the target jet to form a dot matrix, so as to form words, numbers, or graphics.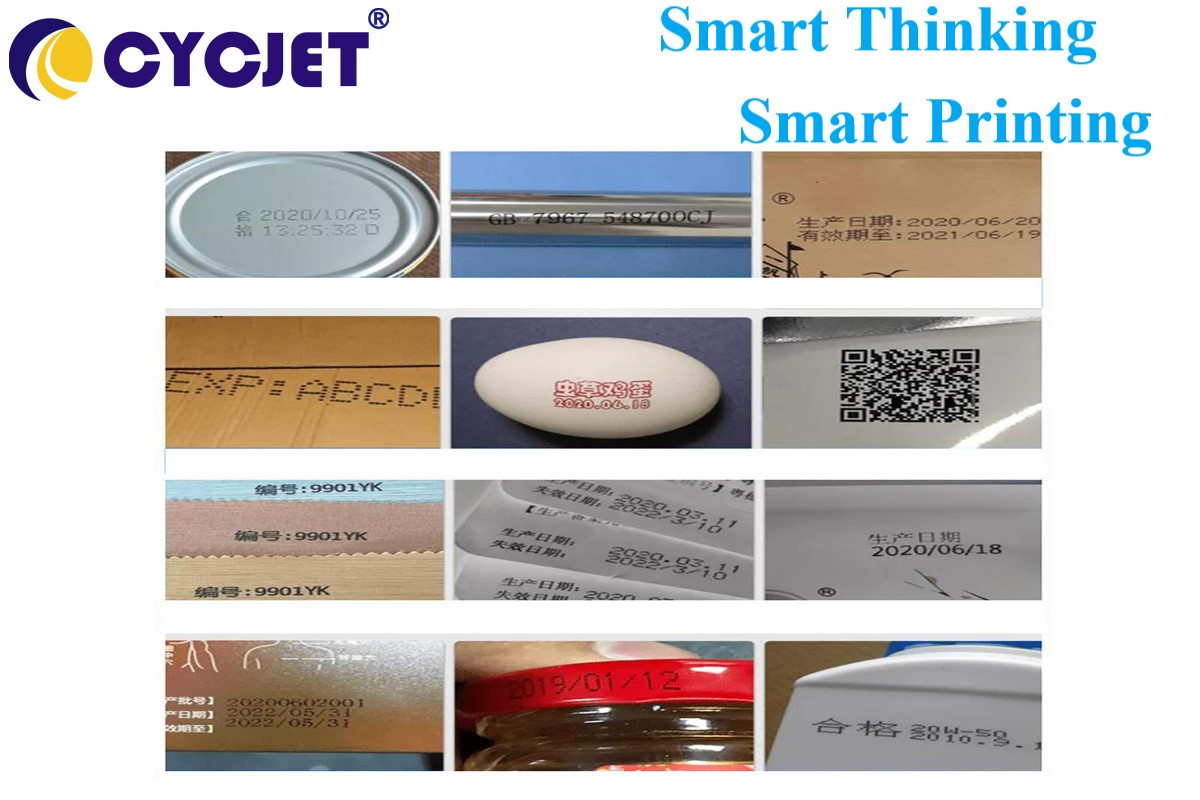 Equipment features:
1. Good adhesion, no blockage of the nozzle, easy maintenance, fast response speed, suitable for a variety of inks, one-time printing, fast drying speed, cost-saving, and simple operation.
2. Instant on and off, green environmental protection, no pollution, suitable for different papers, fast printing speed, strong functionality, wide application range, strong stability, fine marking, and beautiful effect.
Equipment printing content: bar code, QR code, dot matrix code, anti-counterfeiting code, serial number, picture, text, serial number, date and time, counter, logo, graphics, table, validity period, etc.
Application scope of equipment: tag, business card printing, label, smart card, packaging, coupons, hardware, accessories, pharmacy, health products, bottle caps, electronic products, food, carton printing, seed fertilizer, beer, beverage, dairy products, etc.
CYCJET is the brand name of Yuchang Industrial Company Limited. As a manufacturer, CYCJET has more than ten years of experience for wholesalers and retailers of different types of handheld inkjet printing solutions, laser printing solutions, portable marking solutions in Shanghai China.
Contact Person: David Guo
Telephone: +86-21-59970419 ext 8008
MOB:+86-139 1763 1707
Email: sales@cycjet.com
Keywords:
Working video:
Disclaimer: This article is reproduced from other media. The purpose of reprinting is to convey more information. It does not mean that this website agrees with its views and is responsible for its authenticity, and does not bear any legal responsibility. All resources on this site are collected on the Internet. The purpose of sharing is for everyone's learning and reference only. If there is copyright or intellectual property infringement, please leave us a message.