Recently, Metal Century, a converging one-stop decentralized ecological platform, has attracted wide attention in the industry. While the DeFi3.0 age suddenly rises as a new force and the metaverse world comes here with overwhelming power, how should Meta Century stand out from those other platforms?

In August 2021, the founding Community Governance Toke (FCN) of the Meta Century highly carried on the spiritual nature of blockchain. And its rich community cultural deposits were preferred by a blockchain venture capital company, Blockchain Capital. It will empower Meta Century in recourses and businesses, which will help Metal century quicken the pace of ecological prosperity.
Meta Century is defined to be a global converging one-stop decentralized ecological platform, including products like DeFi multiple mining, DEX, lending, DAO, Messenger, and NFT system based on blockchain games. It plans to create a multi-dimensional ecological territory, develop a decentralized financial blue sea, and build a decentralized financial ecological world that everyone can join in.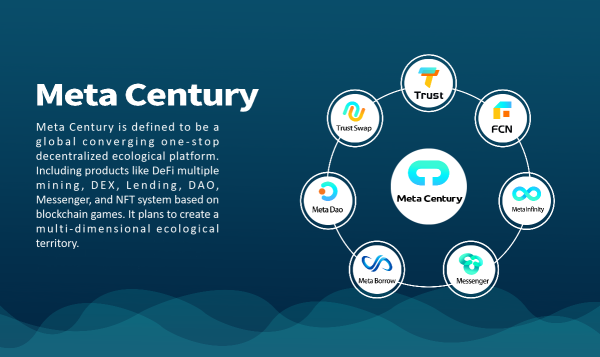 Based on community consensus, Meta Century puts forward the concept of DeFi new-generation converging one-stop decentralized ecology. It is with the characteristics of the ecological platform and system diversification. Also, it puts user interests in priority and collects multiple resources to promote value transfer and consolidate capital mobility and capital depth continuously, thus ensuring the continued participation and contribution of the community.
Essential Components of Meta Century's Ecological Framework
NO 1. FCN—The first TOKEN with a high degree of community autonomy in the Meta Century. It lays a solid community consensus foundation for the beginning of the Meta Century. FCN is the digital gold of the Meta Century ecology.
NO 2. TRUST—Meta Century's multi-revenue aggregation hub based on community autonomy. It's also the governance token of TrustSwap (decentralized exchange) in the Meta Century. What's more, it's a gateway to travel through the multiverse (Meta Infinity) in Meta Century.
NO 3. TrustSwap—Meta Century's next-generation decentralized aggregating DEX based on TRON. It will be the core kinetic energy engine of the Meta Century andextremely important infrastructure in the Meta Century.
NO 4. Meta Infinity—A brand new and global NFT system in Meta Century that centers on blockchain games. Covering NFT, blockchain games, and e-sports, it enables content creators, collectors, investors, game players, and NFT enthusiasts to share ecological results.
NO 5. Meta Dao—Once established, they will work automatically and continue to perform their duties without interference from external sources. With weak control, sub-centers, autonomous mechanisms, network architecture, and coupling connections, etc, they are new social structures,business models, and interpersonal relationships in the era of the information society which are completely different from industrial society.
NO 6. Meta Messenger— A co-built and co-maintained meta-social ecosystem consisting of all nodes in the Meta century.
The new-generation financial ecology created by the Meta century is different from traditional finance. In the future, the Meta century will continue to diversify the system, update iterations and optimize strategies, which will attract more user participation in the Meta century and bring in exponential user growth. Meta century is bound to stand out.
Disclaimer: This article is reproduced from other media. The purpose of reprinting is to convey more information. It does not mean that this website agrees with its views and is responsible for its authenticity, and does not bear any legal responsibility. All resources on this site are collected on the Internet. The purpose of sharing is for everyone's learning and reference only. If there is copyright or intellectual property infringement, please leave us a message.